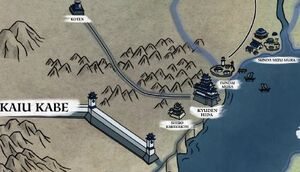 Shiro Kakeguchi was the estate of the Kakeguchi family, vassals of the Hida family which stood halfway between Kyuden Hida and the Kaiu Wall. Like Kyuden Hida, the castle was personally designed by Kaiu. It appeared in many ways to be a smaller version of Kyuden Hida, and was in fact connected to that castle by a series of underground tunnels to aid in the defense of Kyuden Hida. [1] The court of the estate was known as the Sagiso Court, as it was ornated with sagiso motifs. [2]
Destroyer War
Edit
During the Destroyer War its inhabitants collapsed the tunnels to Kyuden Hida before Shiro Kakeguchi was taken after a short siege. [3]
References
Ad blocker interference detected!
Wikia is a free-to-use site that makes money from advertising. We have a modified experience for viewers using ad blockers

Wikia is not accessible if you've made further modifications. Remove the custom ad blocker rule(s) and the page will load as expected.