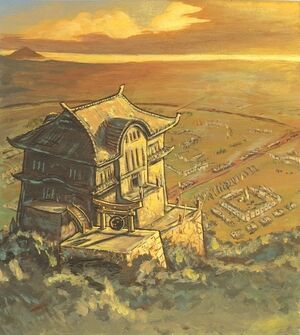 Great Day Castle (U21) in the Garanto province [1] was the home of the Ide family. It served as an excellent school, but a poor fortress, as well as being well regarded for it's unorthodox magical teachings, as the Ide family specialized in spatial magic. Their magical teachings were not well known to because the majority of the Ide family served the Unicorn Clan as courtiers rather than shugenja. [2]
Appearance
Edit
Shiro Ide was located on to the northeast of Chrysanthemum Petal Lake and crafted to visually meld with the surrounding area. Ninety feet at its highest point, the castle had eight levels above ground and one below ground used as both storage and a shelter. Calm Heart Dojo was founded on the shores of the lake. [3] Shiro Ide reflected the aesthetics of their greatest painters and sculptors, mixing traditional Rokugani styles with barbarian techniques, blending seamlessly with the snow-capped peaks of the Seikitsu Mountains and white-capped Chrysanthemum Lake surrounding it. [4] Shiro Ide was a poor fortress, as it was made to impress the samurai of the other Great Clans. The Thirtieth Junghar Legion defended the castle, with three Khol legions camped nearby. [5] Near the palace stood one of the only two shrines devoted to Uzume, the Fortune of Dancing. [6]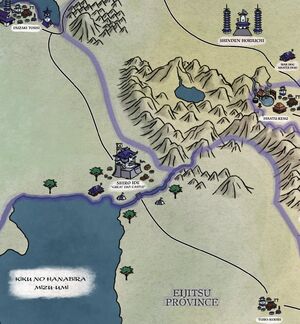 Shiro Ide was founded in 817, two years after the Unicorn's return to Rokugan, and by 820 the castle was finished. [3] It was the first stronghold the Unicorn built after their return. [7] The Suio vassal family had a separate estate in the castle. [8] The Floating Leaf Dojo and the Gentle Guard Dojo were homed within the catle. Close was built the Single Strike Dojo. [9]
Cancelled Winter Court - 1127
Edit
In 1127 the winter court to be held at Shiro Ide was cancelled, citing poor health of the Emperor Hantei XXXIX. [10]
Spirit Wars
Edit
Its remote location made it a strategically unimportant place, so during the War of Spirits, Hantei XV's armies did not disturb the Ide. [3]
Winter Court
Edit
In 1197 Shiro Ide hosted one of the Iweko I winter courts. [11]
External Links
Edit
References
Ad blocker interference detected!
Wikia is a free-to-use site that makes money from advertising. We have a modified experience for viewers using ad blockers

Wikia is not accessible if you've made further modifications. Remove the custom ad blocker rule(s) and the page will load as expected.