Shiro Heichi (A16) once home to the Boar Clan the ruined castle has stood empty for centuries. No one knew exactly what befell the Boar Clan, but since their disappearance the Shakoki Dogu had haunted these mountains, feasting on madness. [1]
Location and Appearance
Edit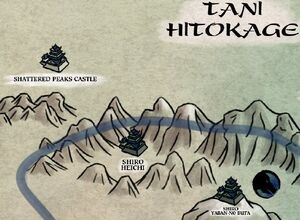 The ruins of the castle laid in the Northern part of the Twilight Mountains, near the Plains Above Evil. [2] Four external towers connected by a low wall surrounded a central keep. The main keep hold the treasures of the clan, including several nemuranai, along with a fortune in iron, jade, and coin, and detailed maps of the area showing the mines of the clan. [3] Below the castle was the main town in the Heichi territory, a large settlement dedicated to mining, forging, and trade. The area housed a number of small temples, including a secret shrine in honor of the mountain spirit called the Shakoki Dogu. [4]
Oracle of Earth
Edit
The man once called Hiruma Osuno, Oracle of Earth, was located at Shiro Heichi. [5]
In 1159 Kokujin was living in the ruins of Shiro Heichi. [6] The Shakoki Dogu could no longer enter Shiro Heichi because the taint of the Anvil of Despair, and they doomed the castle with waves of hungry earth, just to annoy and distract Kokujin, allowing a group of Dragon heroes to deal with him. [7]
First Oni
Edit
Kokujin managed to unleash the First Oni, who shattered the remains of the castle in two. [8]
Rebuilding
Edit
In the late 12th century the Boar Clan was again alive, with Heichi Tochiko as their Daimyo. She began the restoration of their former glory, and in 1200 Shiro Heichi was half rebuilt. [9]
References
Ad blocker interference detected!
Wikia is a free-to-use site that makes money from advertising. We have a modified experience for viewers using ad blockers

Wikia is not accessible if you've made further modifications. Remove the custom ad blocker rule(s) and the page will load as expected.