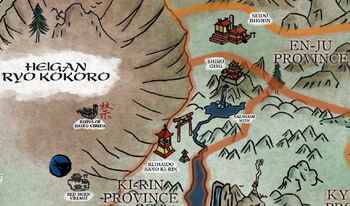 Shiro Gisu was the holding which the Asako family prefered to use for any court functions. The castle hosted several large functions each year, with events taking place on its immense balconies and courtyards. [1]
Building
Edit
Shiro Gisu was located in the Phoenix Mountains a half-day's travel northeast from the Shrine of the Ki-Rin. It was perched on a high mountainside overlooking a lake called Sazanami Mizu. Firebird Falls was nearby to the north. Inside, the palace was constructed with thick mahogany posts and richly painted rice-paper walls and sliding doors. Ornate carvings lined the outer walls and gates. The palace had been built for defense against the elements, not sieges or battles. [2]
Winter court
Edit
Asako Kagetsu was a minor daimyo who hosted an Asako winter court at Gisu. [2] Otomo Yoroshiku, Hantei XXXVIII's niece, was kidnapped by a band of ronin led by a man named Niban while attending winter court at Shiro Gisu. [3]
References
Ad blocker interference detected!
Wikia is a free-to-use site that makes money from advertising. We have a modified experience for viewers using ad blockers

Wikia is not accessible if you've made further modifications. Remove the custom ad blocker rule(s) and the page will load as expected.