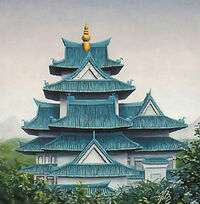 The Son of the Crane Castle (CN4) was the home of the Daidoji family. While not perhaps as culturally sophisticated as the Kakita or Doji the Daidoji were the strong arm of the Crane Clan. The disdain for the Daidoji's traditional military solutions were reconsidered in recent times, and they began to enjoy the same influence as the other Crane families within the Crane Clan. [1] [2]
Founding
Edit
Shiro Daidoji began as the private estate of Doji Hayaku, founder of the Daidoji family. Upon his return from the Shadowlands, Hayaku was convinced that the Crab could not contain the minions of Fu Leng forever, so he transformed his home into a defensive fortress. [3]
Shiro Daidoji was the home of the Iron Crane Dojo, and was surrounded by military training grounds. [4] It was situated between Kosaten Shiro and Kyuden Doji, in the Eastern part of the central Crane lands in the Hayaku province. [5]
The Daidoji Library collected information regarding the military tactics used by the Great Clans. [6]
Destruction
Edit
Shiro Daidoji was rebuilt after the War Against Shadow. When the Crane armies returned from the Battle of Oblivion's Gate they found their lands flooded and the castle destroyed. [7]
External Links
Edit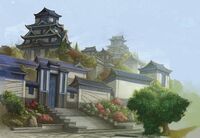 References