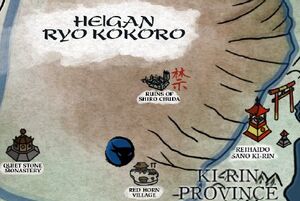 Shiro Chuda (MC7) was built by Isawa Chuda, founder of the Snake Clan, in the Dragon Heart Plain. [1]
Ruins of Shiro Chuda
Edit
The clan fell under the thrall of a Shuten Doji, and they were slaughtered to a man by their cousins the Phoenix in the Five Nights of Shame in 402. [2] The ruins remained undisturbed, and occasionally things not of Ningen-do emerged from them. [1] Since the inception of the Ox Clan the ruins were under the watch of Ox long-range sentries. [3]
References
↑ Bearers of Jade, pp. 87-89
↑ Fealty and Freedom, p. 79
Ad blocker interference detected!
Wikia is a free-to-use site that makes money from advertising. We have a modified experience for viewers using ad blockers

Wikia is not accessible if you've made further modifications. Remove the custom ad blocker rule(s) and the page will load as expected.