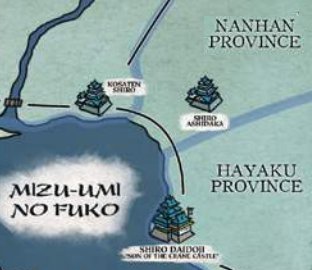 Ashidaka Castle was the small and plain estate of the Ashidaka family, resting against the Crane face of the eastern Seikitsu Mountains. The Ashidaka forges occupied a great deal of space within the castle walls. A shrine to Kakita laid not far from the castle. A famous stone, where Kakita Ashidaka tested the first Kakita Blade was near the shrine, and it was visited by weaponsmiths. [1]
References
↑ Secrets of the Crane, p. 68
Ad blocker interference detected!
Wikia is a free-to-use site that makes money from advertising. We have a modified experience for viewers using ad blockers

Wikia is not accessible if you've made further modifications. Remove the custom ad blocker rule(s) and the page will load as expected.