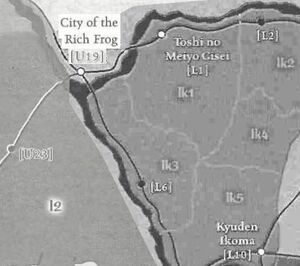 The Shiranai province (Ik3) was the western Ikoma province. [1] After the Return of the Ki-Rin the province became the most dangerous location in Ikoma lands, for the Ide family believed the province fell within their ancestral homelands. [2]
The province was bordered in the northeast by the Gisei province (Ik1), in the southeast by the Gunsho provinces (Ik5), being enveloped in the west by the Three Sides River which separated from the Iuchi provinces of the Unicorn. Notable locations within the province was Shiranai Toshi, the Western Castle [1] and the Lookout Mountain. [2]
References
Ad blocker interference detected!
Wikia is a free-to-use site that makes money from advertising. We have a modified experience for viewers using ad blockers

Wikia is not accessible if you've made further modifications. Remove the custom ad blocker rule(s) and the page will load as expected.