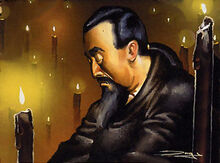 Shioda was a monk adivsor of the Brotherhood of Shinsei.
Otosan Uchi
Edit
Shioda was a quiet and unassuming monk who had lived in the Temple to the Kami at Otosan Uchi for more than twenty years. He was its caretaker prior to the Scorpion Coup. Nobody had seen him speaking for more than two decades, and tended the temple with an expression of guilt. His former clan and old deeds were unknown. [1]
Shioda's story
Edit
Shioda had been a bushi who found the ghostly figure of a sickly boy, named Ukairo, in the Shinomen Forest. The spirit told he was a candidate to Acolyte of Air in the Temple to the Kami, but suffered a rare skin ailment. He had attempted to pass a test within the temple, confronting the five elements, but his illness was overcoming him when he was in the Tower of Void. He projected his spirit to find the root that would temporarily slow the disease. Shioda took the root and moved to the Imperial City, to find he had arrived too late to save Ukairo's life. The kami of the temple were enraged, and blocked the exit from the building to Shioda. He had to pay the debt he owed for his failure, and the kami would bind him to the temple, serving there until his debt was paid. [2]
Siege of Sleeping Mountain
Edit
In 1132 Shioda was one of the members of the Brotherhood who joined the Naga army in the Siege of Sleeping Mountain. [3] He believed hitomi was tainted. [4]
See also
Edit
External Links
Edit
Shioda (Scorpion Clan Coup, Scroll 1)
References
Ad blocker interference detected!
Wikia is a free-to-use site that makes money from advertising. We have a modified experience for viewers using ad blockers

Wikia is not accessible if you've made further modifications. Remove the custom ad blocker rule(s) and the page will load as expected.