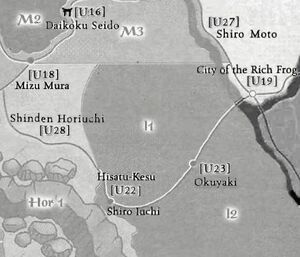 Shinten province (Iu1) was a Unicorn province of the Iuchi family. [1] It had one of the mildest climates in the Unicorn lands and was famous as a winter grazing spot for the clan's horse herds. There were few permanent settlements, but there were small shrines and prepared campsites all across the plains. [2]
The province was bordered by the Ikoku province (M3) to the North, by the Ujidera province (Hor1) to the West, by the Kaihi province to the South, being surrounded by the Firefly River to the East. [1]
References
Ad blocker interference detected!
Wikia is a free-to-use site that makes money from advertising. We have a modified experience for viewers using ad blockers

Wikia is not accessible if you've made further modifications. Remove the custom ad blocker rule(s) and the page will load as expected.