Shinran 
 
Born:
Unknown 
Died:
Unknown
People
Shinran was a tainted monk and kensai of the Spider Clan.
Destroyer War
Edit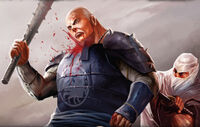 The Spider fought alongside the rest of Rokugan during the Destroyer War, but Shinran remembered past days and took casulaties between the Crab. [1]
Shinran died before the end of the Destroyer War. [2]
External Links
Edit
References