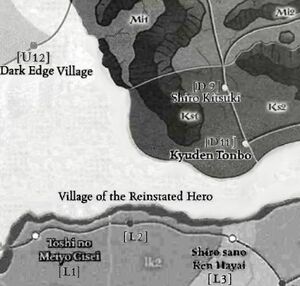 The Shinpi province (Ks1) was a Dragon province of the Kitsuki family containing Shiro Kitsuki, Kyuden Tonbo, [1] the Victory of the Living Blade Dojo in its border with the Dragonfly Clan, [2] Kuchikeru, [3] Morning Frost Castle, [4] Keen Eyes' Strike Village, [5] and Kaagi's Soul Shrine. [6]
Landscape
Edit
The province was a network of twisting valleys and hilly steppes. Steep hills, patch-worked with grass-clusters and shrubs, abruptly ended in tall cliffs overlooking the south and distant Kyuden Tonbo. [7]
The province was bordered by the Unicorn lands to the West, by the Gaien province (Mi1) to the North, by the Kaitou province (Ks2) to the East, and by the Dragonfly lands to the South separating the province of the Lion territory. [1] In 1200 the Dragon Wall was created to avoid anyone to enter or leave the Dragon provinces north of Last Step Castle. [8]
References
↑ Way of the Samurai, p. 34
↑ Unexpected Allies, p. 9
↑ Legend of the Five Rings; Fourth Edition, p. 342 and Map
↑ Secrets of the Dragon, p. 20
↑ The Atlas of Rokugan, p. 63
↑ A True Scorpion (Imperial Herald May 2014), by Robert Denton
Ad blocker interference detected!
Wikia is a free-to-use site that makes money from advertising. We have a modified experience for viewers using ad blockers

Wikia is not accessible if you've made further modifications. Remove the custom ad blocker rule(s) and the page will load as expected.