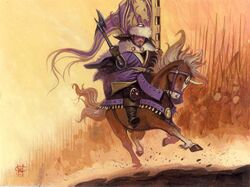 Shinjo Yushiro was a bushi and Emerald Magistrate of the Unicorn Clan.
Magistrate
Edit
Yushiro was appointed at the Imperial City Toshi Ranbo, in the Tsudao district. His nemesis was Takeda, leader of the Gilded Knives smuggling cartel, who avoided any criminal prosecution through a combination of weealth, influence, cunning, and sheer ruthlessness. [1]
Crimelords Murdered
Edit
In 1165 three of the crimelords of the city, Hiroshige, Oni Jakuchu, and Atshushi, had been murdered by unknown assailants. Takeda and several of his competitors, as One-Eyed Ieyoshi knew any of them would be the next. The remaining crimelords gathered to a meeting in a sake house owned by Takeda, to talk about these events. Yushiro appeared and unsuccessfully requested the criminals to share any information they had about the killers. Shortly after the meeting three assassins infiltrated the building. Yushiro had seen them and rushed to foil the incoming assassinations. [2]
Blood Hunt
Edit
In 1166 during the Blood Hunt Yshiro was advised by Yasuki Naosuke about a bloodspeaker he knew, Doji Tsukiro. The cultist bought the movements of the Imperial Legion, in an attempt to flee without being exposed to be catch. Yushiro followed him, expecting Tsukiro would lead him into the bloodspeaker cell to kill them all. [3]
External Links
Edit
References
↑ Way of the Thief, p. 83
↑ Way of the Thief, pp. 83-84
↑ Blood Hunt (Region 27 - Miranda de Ebro, Spain)
Ad blocker interference detected!
Wikia is a free-to-use site that makes money from advertising. We have a modified experience for viewers using ad blockers

Wikia is not accessible if you've made further modifications. Remove the custom ad blocker rule(s) and the page will load as expected.