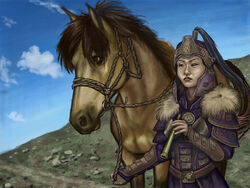 Shinjo Yoshie was a bushi and commander of the Unicorn Clan who had fallen to P'an Ku's madness.
P'an Ku's Madness
Edit
In 1199 Yoshie had fallen under the influx of the mad dragon P'an Ku. During the riots in the Second City Yoshie began to carve her own arm to the bone, using the flesh to feed her horses. [1]
Attacking the Empire
Edit
Yoshie was part of the maddeded horde who seized Journey's End City. The Fallen began to execute the prisoners who did not surrender, and personally beheaded Seppun Barru, the city's commander. They prepared the defenses for the incoming arrival of the Ninth Imperial Legion led by Shinjo Kinto. [2]
The 9th Imperial Legion faced the forces led by Yoshie, while a second army of Lion Fallen under the command of Akodo Tsudoken attempted to flank them, but they were outmaneuvered by the arrival of the combined forces of the Lion Clan Champion Akodo Dairuko, the Khan Shinjo Min-Hee, and the Ivory Champion Shinjo Tselu. Yoshie's forces broke to intercept Dairuko's army, and the 9th Legion intercepted Akodo Tsudoken's Fallen legion, being killed Tsudoken by Kinto in personal combat. [3]
Confronting the Dark Naga
Edit
In her madness, Yoshie moved to the Second City. During the Dark Naga Siege of the Second City she found herself in the Temple District, where Yoshie killed the Quelsa. [4]
External Links
Edit
References
Ad blocker interference detected!
Wikia is a free-to-use site that makes money from advertising. We have a modified experience for viewers using ad blockers

Wikia is not accessible if you've made further modifications. Remove the custom ad blocker rule(s) and the page will load as expected.