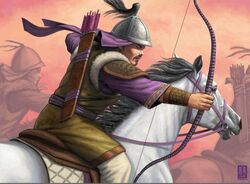 Shinjo Yamauchi was a bushi and a commander of the Unicorn Clan.
Destroyer War
Edit
In 1172 during the Destroyer War Utaku Kohana and Shinjo Yamauchi led a Khol force that struck and eradicated a horde of minor oni rushed from the flank of the Destroyer's Horde that remained within the Shadowlands. The demons had been already battered by the Amoro's Legion led by Hida Sozen and a Mantis force led by the Mantis Clan Champion Yoritomo Naizen himself. [1]
External Links
Edit
References
Ad blocker interference detected!
Wikia is a free-to-use site that makes money from advertising. We have a modified experience for viewers using ad blockers

Wikia is not accessible if you've made further modifications. Remove the custom ad blocker rule(s) and the page will load as expected.