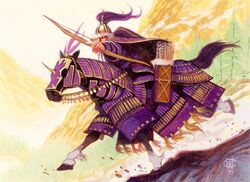 Shinjo Xushen was a bushi of the Unicorn Clan and a member of the Baraunghar army.
Aiding the Crab
Edit
Xushen was part of the Baraunghar at Iuchi Lixue's command who aided the Crab in the defence of the Kaiu Wall. [1]
The Shogun
Edit
After the Wall was retaken, except the Tower of Fear, the Baraunghar were stationed with the Shogun's forces. [1]
Lion march begins
Edit
After the defeat of the khan Moto Chagatai in the Battle of Toshi Ranbo in 1169, the Lion swore to take Shiro Moto within one year. When the march to Shiro Moto began, Xushen was stationed with the Junghar, and was considered the best marksman in Shinjo Shono's army. During the Lion march he drew a fired arrow. The oil Shono had slathered onto that section of the field caught the flame, killing many Lion warriors. Before the oil fire could spread, the fires abruptly disappeared in a sudden cyclone of flowing air, summoned by Kitsu. The Lion had broken through the traps and evaded the ambush, so the Unicorn retreated. [2]
External Links
Edit
References
Ad blocker interference detected!
Wikia is a free-to-use site that makes money from advertising. We have a modified experience for viewers using ad blockers

Wikia is not accessible if you've made further modifications. Remove the custom ad blocker rule(s) and the page will load as expected.