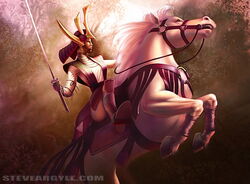 Shinjo Wei was a bushi and scout of the Unicorn Clan and a member of the Junghar.
Wei was appointed to the Junghar in 1168. [1]
War Injuries
Edit
This year the Khan Moto Chagatai was seeking a covert path to Toshi Ranbo. Wei fought the

in their lands, where she was wounded twice in a victorious charge against the Deathseekers. The Unicorns were shortly after soundly defeated by Lion's heir, Matsu Yoshino. [1]
Enlightenment
Edit
Wei attained a form of enlightenment when she came to disapprove of Moto Chagatai's savagery and lust for conquest. She waited for a day when the Shinjo family would once again lead the Unicorn. [2]
External Links
Edit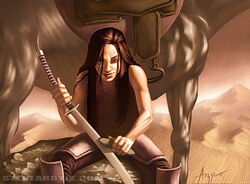 References
Ad blocker interference detected!
Wikia is a free-to-use site that makes money from advertising. We have a modified experience for viewers using ad blockers

Wikia is not accessible if you've made further modifications. Remove the custom ad blocker rule(s) and the page will load as expected.