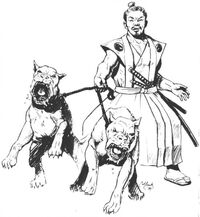 Shinjo Tomoso was a bushi and magistrate of the Unicorn Clan.
War Dog trainer
Edit
Tomoso was lamed in a fight against the Crab, and his horse Hikiosu died pinned by archery fire. He never would ride again. Tomoso used his gift with the animals to train the famous Unicorn War Dogs, and was appointed as magistrate. [1]
See also
Edit
References
↑ Unexpected Allies, p. 93
Ad blocker interference detected!
Wikia is a free-to-use site that makes money from advertising. We have a modified experience for viewers using ad blockers

Wikia is not accessible if you've made further modifications. Remove the custom ad blocker rule(s) and the page will load as expected.