Shinjo Tae-hyun was a Unicorn Clan bushi and the Topaz Champion of 1171. He earned a post as a magistrate.
Topaz Championship
Edit
Shinjo Hyun won the Topaz Championship and took the name Tae-hyun. He was then approached by Togashi Mitsu, and Tae-hyun asked the Oracle of Thunder where he should go in order to do the most good for the Empire.[1] The Oracle's words echoed in his mind as he charged on the battlefield. [2]
Children
Edit
Tae-hyun had a son, Shinjo Taeken. [3]
Colonies
Edit
In 1198 Tae-hyun was exploring in the Colonies, where he found a ruined library when he was escaping from a beast that had attacked his unit. He was met there by another explorer, Tamori Kazushige. [4] The place would be known as Yasuyo's Final Lesson. [5]
Siege of the Second City
Edit
Tae-hyun was in the colonial capital when the Siege of the Second City began. He attended winter court there this year, and he increased his fame as lecherous with his approach to several young women including Toku Makoto. [6] Tae-hyun joined the Ninth Imperial Legion which was besieging the city, and requested the Imperial commander, Shinjo Kinto, to send an ultimatum to Shinjo Tselu to end the engagement. The Ivory Champion surrendered the city to the legions and himself after Tselu conceded defeat in a duel to first blood to Tae-hyun. [7]
Topaz Champions Trio
Edit
Tae-Hyun had as companion a former Topaz Champion, Kaiu Onizuka. They met a third one, Kitsuki Nakai, and both offered their aid in any endeavour the Dragon had there. [8]
Age of Madness
Edit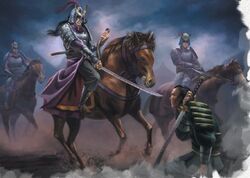 During the Age of Madness many incidents happeneded, influenced by the influx of the mad dragon P'an Ku. In 1199 Tae-Hyun apprehended Yoritomo Hama, one he suspected of numerous criminal activities despite his claim of magistrate status. The Mantis had in his possession documents that seemed to indicate he was affiliated in some way with Matsu Yoshito, a villain who had recently killed Utaku Sung-Ki. Hama might have passed on information concerning Sung-Ki's whereabouts to the Lion. [9]
External Links
Edit
References
Ad blocker interference detected!
Wikia is a free-to-use site that makes money from advertising. We have a modified experience for viewers using ad blockers

Wikia is not accessible if you've made further modifications. Remove the custom ad blocker rule(s) and the page will load as expected.