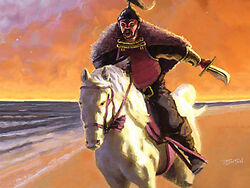 Shinjo Shuilong was a veteran magistrate of the Junghar army.
Protector of the Imperial City
Edit
Shuilong knew the necessity of defending one's home and family from those who wished them ill. He had served the army in the defense of his clan for over a decade, rising to the rank of gunso. The recommendation of Shuilong by Shinjo Daimyo Shinjo Shono for the position of Protector of the Imperial City had caught the eye of Empress Toturi Kurako, who knew her husband Toturi III valued the long-standing friendship with Shono. [1] Finally Bayushi Norachai was appointed to the charge. [2]
External Links
Edit
References