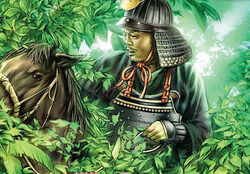 Shinjo Shinlao was a bushi and scout of the Unicorn Clan.
Defending the Kaiu Wall
Edit
In 1171 Shinlao was sent alongside the Unicorn forces who were stationed in the Kaiu Wall to defend it against a relentless assault of Shadowlands creatures. [1]
Destroyer War
Edit
Shinlao marched from winter court at Kyuden Gotei to the presence of the Shogun Moto Jin-sahn. He sent word that the Imperial Legions had to join the Crab defense during the Destroyer War. [2]
External Links
Edit
References