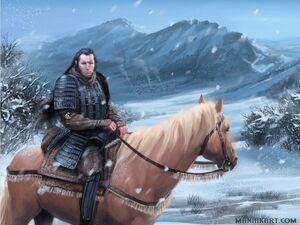 Shinjo Saihan was a bushi scout of the Unicorn Clan.
Chagatai's Ambition
Edit
In 1168 Saihan marched alongside the Khan Moto Chagatai in the first steps of the Khan's Defiance. They seized the Village of the Pious Monk in his way toward the Imperial City Toshi Ranbo. [1]
Assaulting Toshi Ranbo
Edit
A favored scout he reported the position of the Lion army to Chagatai in 1169. [2] and later fought at the Battle of Toshi Ranbo. [3]
External Links
Edit
References