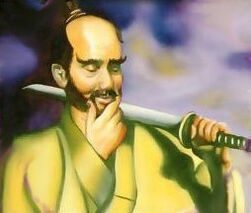 Otaku Mosaku was a bushi of the Unicorn Clan who eventually joined the Shinjo family as Shinjo Mosaku.
Joining the Shinjo
Edit
Born into the Otaku family, Mosaku lacked some important element of balance to allow him to become even an average rider. Mosaku joined the Shinjo infantry, impressing the Unicorn Clan Champion Shinjo Yokatsu for his insight and instinct for infantry maneuvers. He joined the Shinjo family as Shinjo Mosaku, serving as support for a cavalry offensive. [1] His knowledge of strategy made him valuable on the battlefield. Somehow other sources said that an old wound kept him from riding. [2]
See also
Edit
External Links
Edit
References
Ad blocker interference detected!
Wikia is a free-to-use site that makes money from advertising. We have a modified experience for viewers using ad blockers

Wikia is not accessible if you've made further modifications. Remove the custom ad blocker rule(s) and the page will load as expected.