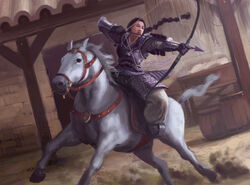 Shinjo Kurimoko was a bushi and magistrate of the Unicorn Clan.
Murder investigation
Edit
In 1172 Kurimoko was assigned as liaison to Moto Hotei, sent by the Imperial Treasurer Yoritomo Utemaro to investigate the death of an Imperial tax collector. After a second man was murdered simillarly, the trails led to Moto Chiang, who had disappeared. Hotei passed the lead to Kuni Tanin, as the quest fit better for the Jade Magistrates. [1]
External Links
Edit
References