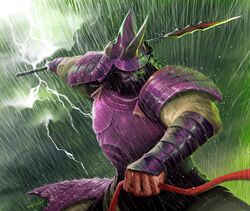 Shinjo Ki-Chang was a bushi and commander of the Unicorn Clan.
Demeanor
Edit
Ki-Chang was an earnest, patient man, one of the brightest young hopes of the declining Shinjo family. [1] In 1171 Ki-Chang proved he had surprising talents during Winter Court at Kyuden Gotei. [2]
Destroyer War
Edit
Ki-Chang was a chui during the Destroyer War. [1] He fought valiently and became a true friend of the Shogun Moto Jin-sahn. [2]
Shinomen Mori
Edit
In 1172 Ki-Chang led a Unicorn force to deal with unknown forces massing in the northernmost regions of the Shinomen Mori. The Dragon sent units to work with Ki-Chang in the foray into the forest and ultimately found signs of a large war camp. The two groups put the entire area to the torch. [3]
Army of Fire
Edit
Later his forces were redeployed to the Northern Steppes were they fought the yobanjin Army of Fire. [1]
Moto Kang
Edit
Under his command was the gunso Moto Kang, a man of questionably sanity. Ki-Chang despised him, and saw an opportunity to get rid of him. Kang was ordered to join the Unicorn forces led by Horiuchi Nobane in the southern front, a front more deadly and where Kang could disappear quickly. The madman suggested to promote his nikutai Shinjo Hansu and sent him instead. It would lead in a loss of face to Kang, being overpassing by a subordinate, but the Moto only wished to remain in the steppes. There Kang could send more men in the arms of his beloved Lords of Death. Ki-Chang did not change his mind and Kang departed. [1]
Moto Naleesh's Advisor
Edit
Ki-Chang became old, but his advise was required by the new Unicorn Clan Champion, Moto Naleesh, and the aged samurai was at her side giving his counsel. [4] Shinjo Scouts returned to the Oasis of Spirits in the place suggested by Moto Naleesh. [5]
External Links
Edit
References
Ad blocker interference detected!
Wikia is a free-to-use site that makes money from advertising. We have a modified experience for viewers using ad blockers

Wikia is not accessible if you've made further modifications. Remove the custom ad blocker rule(s) and the page will load as expected.