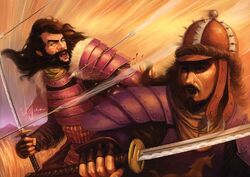 Shinjo Junpei was a bushi and tactician of the Unicorn Clan.
Investigation
Edit
In 1198 Junpei was appointed by the Khan Shinjo Min-Hee as the military adjunct to the magistrates during the investigation of the disappearance of Akasha, the Naga mother of the Unicorn Clan Champion Moto Naleesh and wife of the former champion Moto Chen. Other incidents related with the Naga had happened around the Empire, as the destruction of the Naga Embassy, or the disappearance of Naleesh betrothed's father, Mirumoto Mareshi. [1]
Nickname
Edit
Jumpei was known as "Champion's Bloodhound" after his appointment as magistrate. In his wanderings he chased three bandit brothers, who met their demise at the hands of Utaku Tsukiko, a Battle Maiden patrolling the area under the command of Moto Taha. [2]
External Links
Edit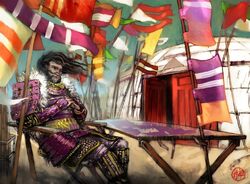 References