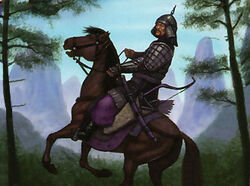 Shinjo Joyung was a bushi and scout of the Unicorn Clan.
War of Dark Fire
Edit
In 1170 he was member of the Junghar and alongside Shinjo Yudo they ventured into Badger lands searching for signs of the Army of Fire, who had invaded the Empire in the War of Dark Fire. They found Kazumasa badly wounded, beside the ruins of the Ryoshun's Grave, which had been razed to the ground by the minions of Chosai, the Dark Oracle of Fire. [1]
Phoenix Lands
Edit
His man Shinjo Aniji traveled the length of the Northern Wall Mountains, scouting the size of the Army of Fire and its supports. They were skirting along the northern border, dipping into the tribes' and the Phoenix lands. They reached the tower of Kitamahari, which had been destroyed by the yobanjin invaders. [2]
External Links
Edit
References
Ad blocker interference detected!
Wikia is a free-to-use site that makes money from advertising. We have a modified experience for viewers using ad blockers

Wikia is not accessible if you've made further modifications. Remove the custom ad blocker rule(s) and the page will load as expected.