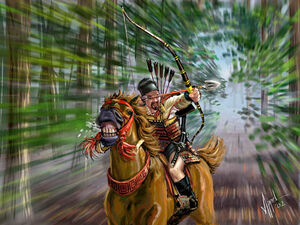 Shinjo Horsebow was a small bow designed for ease of use both on foot and on horseback. The Shinjo made no efforts to hoard these weapons or keep them secret, but few others used them. [1] Horsebow was typically made by gluing wood, horn, and sinew together. [2]
External Links
Edit
References
↑ Legend of the Five Rings; Third Edition, p. 173
↑ Legend of the Burning Sands Roleplaying Game, p. 54
Ad blocker interference detected!
Wikia is a free-to-use site that makes money from advertising. We have a modified experience for viewers using ad blockers

Wikia is not accessible if you've made further modifications. Remove the custom ad blocker rule(s) and the page will load as expected.