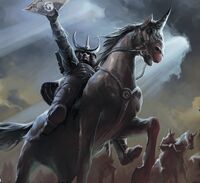 Shinjo Horibe was a bushi and commander of the Unicorn Clan who lived in the late twelfth, early thirteenth century. [1]
Demeanor
Edit
His grandfather died to Matsu Yoshino's blade and his father perished defending the land against the Destroyers. Duty and honor was paramount to young Horibe, though he sometimes was too enthusiastic in proclaiming them. [2]
Way to the Colonies
Edit
Horibe was one of the guards who kept safe the land route to the Colonies. [3]
External Links
Edit
References
Ad blocker interference detected!
Wikia is a free-to-use site that makes money from advertising. We have a modified experience for viewers using ad blockers

Wikia is not accessible if you've made further modifications. Remove the custom ad blocker rule(s) and the page will load as expected.