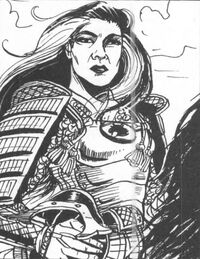 Shinjo Hayasu was the governor of the Hayasu district of Otosan Uchi prior to the Scorpion Coup.
Demeanor
Edit
Hayasu took a male name and the celibacy vow to prove her dedication to Bushido. Hayasu's style of government was based upon her military training, so her subordinates followed orders without question. [1]
Hayasu district
Edit
When she took the post, the district was known by the governor's name, as usual. In 1123 had arrived her new hatamoto, Otaku Hitoshi, an old friend two years older than Hayasu. [1]
Scorpion Coup
Edit
During the Scorpion Coup Hayasu worked against the Scorpion attackers, and encouraged the creation of the People's Militia which fought aaginst the Scorpion under the command of retired samurai. After the Coup Hayasu reorganzied and revitalizaed the Outer City's defenses. [2]
See also
Edit
References
Ad blocker interference detected!
Wikia is a free-to-use site that makes money from advertising. We have a modified experience for viewers using ad blockers

Wikia is not accessible if you've made further modifications. Remove the custom ad blocker rule(s) and the page will load as expected.