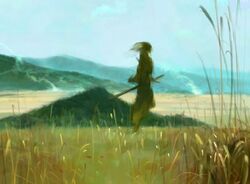 Shinjo Guan was a Unicorn Clan bushi and magistrate.
Guan was appointed as magistrate at Dark Edge Village. In 1159 two fellow magistrates had been disappeared after they had met with Moto Tsusung, a dreaded Moto Death Priest. A group of samurai investigated Tsusung, and he told the missing magistrates were killed by bandits, whom the shugenja stalked and killed. [1]
City of Night
Edit
Guan was dispatched by Moto Chagatai to supervise Horiuchi Shem-Zhe's studies in the City of Night following the death of Moto Vordu. Guan cancelled several innocuous experiments within the city on a gut feeling that Shem-Zhe and others were tampering with forces they did not understand. Despite this, Shem-Zhe was grateful to have a stalwart defender. [2]
External Links
Edit
References
Ad blocker interference detected!
Wikia is a free-to-use site that makes money from advertising. We have a modified experience for viewers using ad blockers

Wikia is not accessible if you've made further modifications. Remove the custom ad blocker rule(s) and the page will load as expected.