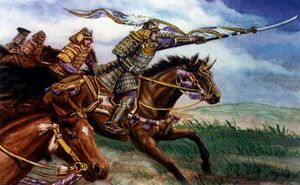 Shinjo Goshi was a bushi of the Unicorn Clan.
Early Years
Edit
Fond of Forests
Edit
Growing up in the woodlands near Shiro Shinjo whe was a prodigy with the bow, spending his time among the trees and animals in the forest. For his gempukku Goshi spent thirty nights in the Shinomen Forest and returned with a large set of wild boar teeth. His jovial attitude made him a natural leader. [1]
Training
Edit
In his youth, Goshi travelled to four different Clans (Crane, Crab, Dragon and Lion) and trained with their cavalry units: [2] Tsuru's Legion, the Dragon's Flames, the Lion Warden and the Doji's Fan. He gained the respect, when not the friendship, of their commanders, Hida Tsuru, Mirumoto Sukune, Matsu Mori and Doji Rimaki. [3]
Scorpion Coup
Edit
Goshi was promoted to taisa, and was appointed at Otosan Uchi prior to the Scorpion Coup. [4] During the coup he was outside Toshi Ranbo hunting in the Crane's forest with a rather large party. They were the first to answer the Unicorn's call to the lands of Otosan Uchi, using the bow to decimate the enemy while taking few losses. After the fight was over, he was ordered to train several other groups in the tactics they employed. [1]
Clan War
Edit
During the Clan War Goshi's unit guarded Unicorn homelands against the minions of the Shadowlands. [1]
See also
Edit
External Links
Edit
References
↑ Clan War: Unicorn Army Expansion, p. 42
↑

Clan War booklet

↑ Otosan Uchi:Book 1, p. 91
Ad blocker interference detected!
Wikia is a free-to-use site that makes money from advertising. We have a modified experience for viewers using ad blockers

Wikia is not accessible if you've made further modifications. Remove the custom ad blocker rule(s) and the page will load as expected.