The Temple of Courageous Reflection [1] was a monastery built beside the closest bridge across Three Sides River, twenty miles from Kenson Gakka. [2] After it was destroyed a new one was built at Otosan Uchi. [3]
Foundation
Edit
Yaruki Jukko was a Shinseism temple built during the rule of Hantei Genji, after he edicted an Imperial Edict which merged the religion or the Seven Fortunes, the Kami no michi, and the words of the Tao. More recently it joined the Shintao movement. [1] The Order of Courageous Reflection resided there, monks who believed that meditating before a reflective surface, as a mirror, was the only true path to self-enlightenment. [4] A passage into Chikushudo, the Realm of Animals, laid near the temple. [5]
Scorpion Compound
Edit
The Scorpion considered Kenson Gakka was a holding on borrowed time, guessing the neighbour Lion Clan would eventually take the castle. In the 6th century they constructed an extensive series of passages within the walls and floors of various buildings throughout the city, connecting them to the castle and the underground river that stretched nearly to the Scorpion border, ending in a temple, Yarukki Jukko. Only one or two monks within the monastic order knew the truth of their deception. [2]
Destroyed
Edit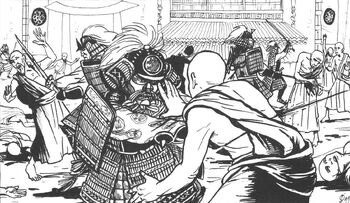 In 1120 Crane visitors were attacked and killed by the Lion garrison. The Scorpion hoped to exploit the affair to recapture the city from the Lion, but ultimately their attempt was a failure. [6] The only survivor was Tankenka, shinpu of the monastery at that time. [7] The temple was overrun by the Scorpion in their march. Nothing remained but rubble, a testament to a six hundred year-old plan. [8] Fourteen monks were slaughtered. [9]
New Temple
Edit
The Brotherhood of Shinsei rebuilt the order, and the new temple was located at Otosan Uchi, the New Shinden Yaruki Jukko. [3]
Known Temple Masters
Edit
References
↑ Legacy of the Forge, p. 22 Sidebar
↑ Secrets of the Lion, p. 67
↑ Imperial Histories, p. 129
↑ Game Master's Pack and Screen: The Silence Within Sound
↑ Silence Within Sounds, p. 42
↑ Otosan Uchi:Book 2, p. 70
Ad blocker interference detected!
Wikia is a free-to-use site that makes money from advertising. We have a modified experience for viewers using ad blockers

Wikia is not accessible if you've made further modifications. Remove the custom ad blocker rule(s) and the page will load as expected.