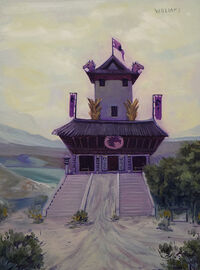 The small Horiuchi Temple (U28) in the Ujidera province [1] was where the sworn followers of Horiuchi Shoan lived, the ancestral home of the Horiuchi family. A hero from the Clan War, Shoan retired to a monastery years ago, and those that had taken her name served the Unicorn to the best of their ability. [2]
Monastery
Edit
The temple was nestled in the Spine of the World Mountains, a few miles off Mother Shoan's Way. Initially built as a monastery in 1110, as a shelter for monks of Inari, Fortune of Rice. [3]
Horiuchi Family
Edit
Shinden Horiuchi was given to Horiuchi Shoan when the Horiuchi family was first recognized, and It was expanded tenfold to house the fledgling family, and a court chamber and garden were added. [3] The Twenty-Eighth Junghar Legion protected the place. [4]
Horiuchi Demise
Edit
During the Destroyer War the entire complex was burned to the ground to try to halt the spread of a plague. The ruins became a pilgrimage site, and the core structure of the temple was left untouched in honor of those who died with it. [5]
External Links
Edit
References
Ad blocker interference detected!
Wikia is a free-to-use site that makes money from advertising. We have a modified experience for viewers using ad blockers

Wikia is not accessible if you've made further modifications. Remove the custom ad blocker rule(s) and the page will load as expected.