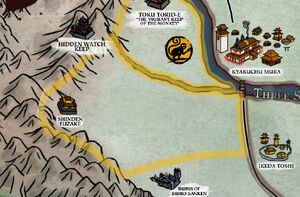 Shinden Fuzake was located in the ancestral home of the Fuzake family, given by the Monkey Clan Champion Toku after Empress Toturi Kurako made the tiny vassal family a full-fledged family in its own right. The temple was built in a peaceful village near the Scorpion Clan border. The monks there paid homage to all the Thousand Fortunes. The temple also doubled as a hospital of sorts for the whole Monkey Clan territory. [1]
Appearance
Edit
The temple had an erratic layout, with statues of Fortunes greater and lesser in various nooks and corners, and was frequently changed to accommodate the elevation of new Fortunes. [2]
References
Ad blocker interference detected!
Wikia is a free-to-use site that makes money from advertising. We have a modified experience for viewers using ad blockers

Wikia is not accessible if you've made further modifications. Remove the custom ad blocker rule(s) and the page will load as expected.