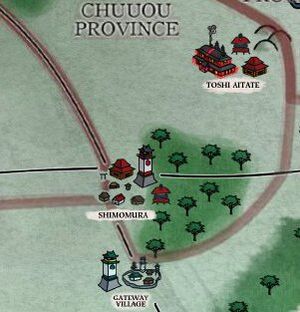 Frost Village (S14) in the Chuuou province [1] was located on a high plateau, and recieved the season's first frosts south of Seikitsu Mountains. Laying on a major travel route between Scorpion lands and southern Crane lands there were many fine inns and tea houses to cater for wealthy travellers here. [2] [3] Its villagers harvested lumber from the forested regions to the south and east - though never in the Shinomen Forest proper. [4]
Major Bayushi Holding
Edit
Frost Village was a major holding for the Bayushi, for it was near the most fertile farmlands and thickest forests. The road from Shimomura to Kyuden Bayushi, Summer's Kiss Road, was well tended and carefully guarded. [5] It hold a bushi dojo, Shimomura Dojo. [6]
Destroyer War
Edit
The village fell during the Destroyer War in 1173. The kolat Tsuruchi Etsui was there when Kali-Ma's forces came. The Mantis wanted to retrieve a scroll with important information that he couldn't allow to fall into false hands. He had to see the scroll get burned, but Etsui survived the battle. The fire arrows he used to escape burned the village to the ground. [7]
References