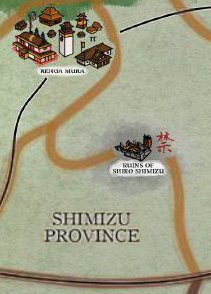 Shimizu Toshi was the ancestral home of the Shimizu family, which laid in ruins after the family was destroyed for their constant warring with neighboring provinces, which led to their demise at the hands of the Akodo. [1]
Location
Edit
Within the Shimizu province [2] the ruins of the castle were known as Otori's Shame, that laid forgotten to the northeast of Tonfajutsen, [3] sat in a patch of rocky, unproductive land, near the border of the Kitsu lands. [1]
References
Ad blocker interference detected!
Wikia is a free-to-use site that makes money from advertising. We have a modified experience for viewers using ad blockers

Wikia is not accessible if you've made further modifications. Remove the custom ad blocker rule(s) and the page will load as expected.