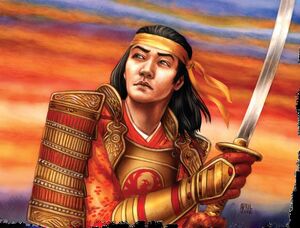 Shiba Takeishi was a bushi of the Phoenix Clan.
War with the Dragon
Edit
Takeishi passed his gempukku and entered service at a small outpost on the border with the Dragon. After the War of Fire and Thunder began, he participated in the Battle of Ki-Rin's Shrine, where he was wounded, struck by the Dragon catapult, Tamori's Flame. He was found in the battlefield by Shiba Aikune himself, and Takeishi was moved to Shiro Shiba for recovery. [1]
At Aikune's Command
Edit
Takeishi was one of the first samurai to follow Shiba Aikune, impressed by his kinsman's force of character and ability to control the Isawa's Last Wish during the War of Fire and Snow. [2]
Honored Treaty City
Edit
Takeishi was placed in command of Honored Treaty City and the newly built Shiba Barracks, after Aikune unleashed his wrath against the Lion when they withdrew from the war. Takeishi often considered moving his forces into the less defensible but more practical city, as the barracks were built in a hasty way, with many oddities and inconsistencies in the architecture. [2]
Instructor
Edit
After the war Takeishi was transferred back to Shiro Shiba to take a position as an instructor at the yojimbo school. He left his duty when Iuchiban rose to threaten the empire again in 1159. His unit was on open ground when when the Rain of Blood fell from the skies, and Takeishi was forced to cut down his corrupted kinsmen. [1]
Retired from Front Lines
Edit
Takeishi asked that he not serve on the front lines again, and he became part of the personal guard of the Elemental Council at Kyuden Isawa. [1]
See also
Edit
External Links
Edit
References
Ad blocker interference detected!
Wikia is a free-to-use site that makes money from advertising. We have a modified experience for viewers using ad blockers

Wikia is not accessible if you've made further modifications. Remove the custom ad blocker rule(s) and the page will load as expected.