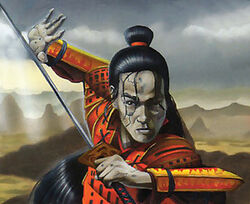 Shiba Sotatsu was a Phoenix Clan bushi.
Elemental Legion
Edit
Sotatsu was a chui of the Legion of Stone. [1]
Toshi Ranbo
Edit
Sotatsu was stationed in Toshi Ranbo in 1169 alongside Shiba Miiko. In the Month of the Rooster a fight broke out between Lion and Mantis forces in the city, and Sotatsu was among the Shiba tasked with quelling the fighting. Both the Mantis and Lion were banished from the city following the incident. [2]
Destroyer War
Edit
In 1172 Sotatsu and the Legion was defending a minor fortification near Shiro Shiba against the Army of Fire. He used a banner written in yobanjin language, speaking ill of them. The barbarians enraged made a frontal assault giving the chance the Firestorm Legion, led by Isawa Kokuten, to crash into the Yobanjin rear forces. [3]
External Links
Edit
References
Ad blocker interference detected!
Wikia is a free-to-use site that makes money from advertising. We have a modified experience for viewers using ad blockers

Wikia is not accessible if you've made further modifications. Remove the custom ad blocker rule(s) and the page will load as expected.