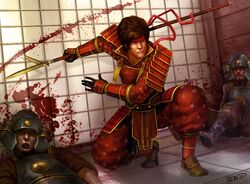 Shiba Shigenobu was a bushi and Emerald Magistrate in the Phoenix Clan.
Shigenobu as child was fostered to his sensei Seppun Katsura to be taught as a Emerald Magistrate [1] and to secure an alliance between the Imperial Court and the Phoenix Clan. [citation needed]
He served the Emerald Magistrate Seppun Tashime. [1] The investigation skills and rumours in the Court to make obligations owed to him and dishonoring his foes that threatened his allies. [citation needed]
External Links
Edit
References