Shosuro Seiko was a Shosuro Actress of the Scorpion Clan. When her clan was exiled to the Burning Sands she became Shiba Seiko, a bushi and yojimbo serving the Phoenix Clan.
Seiko was born a Scorpion, but after her original clan was exiled he joined the Phoenix, because her father's father had been a Phoenix. [1]
Scorpion training
Edit
As Scorpion she was trained as a Shosuro Actress. [1]
War Against Shadow
Edit
Seiko marched to Volturnum and fought in the Battle of Oblivion's Gate following her master, Agasha Fukishi. After the death of her charge she offered to become yojimbo of the Master of Fire Isawa Hochiu. The Dragon of Air took them into the inner city of Volturnum to reach the Master of Darkness, Goju Adorai.[1]
Seiko's Death
Edit
Seiko used her Scorpion training and disguised herself as Hochiu. She attacked Adorai with her crystal yari, but was mortally wounded by the shadow sorcerer. It allowed Hochiu the opportunity to strike Adorai down with his Crystal Katana. Seiko was in this way instrumental in the defeat of the Lying Darkness and the end of the War Against Shadow. [1]
External Links
Edit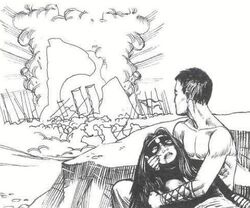 References
Ad blocker interference detected!
Wikia is a free-to-use site that makes money from advertising. We have a modified experience for viewers using ad blockers

Wikia is not accessible if you've made further modifications. Remove the custom ad blocker rule(s) and the page will load as expected.