Shiba Sansesuke was a bushi and yojimbo of the Phoenix Clan. Furthermore, he was a member of the Order of Chikai. He lived in the late twelfth, early thirteenth century. [1]
Demeanor
Edit
Sansesuke could trace his lineage back to Shiba-Kami himself, and he was completely dedicated to the Shiba duty of defending the clan. In his heart however, he yearned to put aside the sword and become an artisan. [2]
Colonies
Edit
In 1198 Sansesuke was exploring the Colonies. He and his charge Isawa Sakonoko entered into a ruined building when they were being chased by beasts. Inside they found a cache of Kshatriya artifacts, treasures of the samurai of the Ivory Kingdoms. Sakonoko, who had been grievously wounded during the pursuit, died there. [3]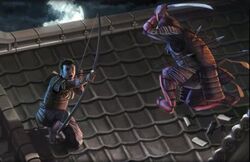 Somehow Sansesuke and Ikoma Shizuka crossed their paths, [4] and the Lion won the day, killing the yojimbo. [5]
External Links
Edit
References
Ad blocker interference detected!
Wikia is a free-to-use site that makes money from advertising. We have a modified experience for viewers using ad blockers

Wikia is not accessible if you've made further modifications. Remove the custom ad blocker rule(s) and the page will load as expected.