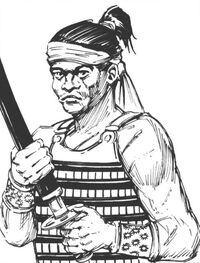 Shiba Rojiman was a Berserker of the Phoenix Clan. His lack of focus meant he was unable to attend the Shiba Yojimbo school, which became evident after Rojiman badly injured two other bushi during an outburst of anger. Rojiman was instead sent to the Crab to train with the Hida Berserker school under the eye of Hiruma Meiso.[1]
See also
Edit
References
↑ Unexpected Allies, p. 77
Ad blocker interference detected!
Wikia is a free-to-use site that makes money from advertising. We have a modified experience for viewers using ad blockers

Wikia is not accessible if you've made further modifications. Remove the custom ad blocker rule(s) and the page will load as expected.