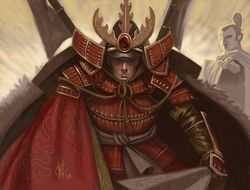 Shiba Riza was a Phoenix Clan bushi.
Cursed Man
Edit
Riza was a petulant and disobedient child who insulted the monks to a temple dedicated to Emma-O. The Fortune of Death cursed the young boy in revenge. [1]
Training
Edit
Riza was sent to the Shiba Arbitrator school to temper his behaviour, but after completing his initial training he requested to be made a yojimbo, the ancestral post of his family. This was a role that Riza excelled at. [1]
Realizing the Curse
Edit
One by one close friends and family members were dying around Riza. Eventually an Asako Inquisitor researched into Riza's strange luck as yojimbo, but who suffered such pattern of unfortunate coincidences. The inquisitor told that every time Riza saved a life, another would be lost, someone close to him. Riza decided to save the lives of his fellow Phoenix without drawing his sword. He rededicated himself to the training he reserved as a youth, saving lives by preventing conflict as mediator. [1]
Kumitae Tournament
Edit
In 1168 Riza participated in a martial arts tournament, the Kumitae Tournament, which prize was a recently discovered martial arts manual written by Shinsei himself, the Kumitae. Riza fought the Lion Ikoma Kosaku in the first round and lost. One of the contenders, the ronin Masami was later exposed as a tainted Daigotsu's follower, and was killed by Hida Nichie. For her actions Nichie was considered a hero, and the final round was not disputed, being Nichie the Kumitae Champion. [2]
See also
Edit
External Links
Edit
References
Ad blocker interference detected!
Wikia is a free-to-use site that makes money from advertising. We have a modified experience for viewers using ad blockers

Wikia is not accessible if you've made further modifications. Remove the custom ad blocker rule(s) and the page will load as expected.