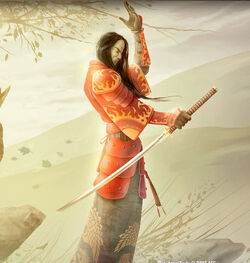 Shiba Myoushi was a bushi and Yojimbo of the Phoenix Clan with a great connection with the Void element.
A Brother's Destiny
Edit
Myoshi learned that his friend Shiba Eraki would be the Ritual Master of the Shiba detachment who would be sent with Iweko Seiken, the Imperial Heir, as he traveled to the Colonies. Eraki pondered that Seiken's initiative in the Colonies was a necessary endeavor, one that would restore tradition and honor to that region. [1]
Fighting the Dark Naga
Edit
Myoushi had been appointed as yojimbo to Isawa Kouka, a tiny priestess stationed in the Second City. In 1199, during the Dark Naga Siege of the Second City, Myoushi fought in the Peasant District a group of Dark Naga to allow his charge to flee towards the more defended Imperial District. [2]
Unicorn Attack
Edit
In 1200 Myoushi was a herald and advisor to his Lady, Shiba Tsukimi, accompanying her at any time. He reported to the Council of Five that the Crane had withdrawn their support during the conflict with the Unicorn, removing their troops from Tanima Sano Futatsu Taisho and closing travel through their lands to Phoenix and Unicorn alike. This was a consequence of the poor performance of the Phoenix delegation during past Imperial Winter Court. The Crab supported the Phoenix after they decided against their promise to remain neutral in this war. The Elemental Masters pondered how to conduct the next actions in the war, and Myoushi counseled that the Phoenix should counterattack and scatter the retreating Unicorn forces that had been repelled during the Siege at Kyuden Agasha. [3]
External Links
Edit
References
Ad blocker interference detected!
Wikia is a free-to-use site that makes money from advertising. We have a modified experience for viewers using ad blockers

Wikia is not accessible if you've made further modifications. Remove the custom ad blocker rule(s) and the page will load as expected.