Shiba Michiki 
 
Born:
Unknown 
Died:
Unknown 
Siblings:
Un-named brother
People
Shiba Michiki was a bushi and yojimbo of the Phoenix Clan.
Michiki was friend of Daidoji Ujirou, Utaku Sang-Ju, Hiruma Itta, and Shiba Jaishu. The last friend was as close to a brother as he had ever known, always laughing, always cheerful. In 1199 the group mourned Jaishu, who had died of an illness during the winter. [1]
Muchiki was yojimbo to Isawa Amihiko, and they visited Doji Etsuki, governor of a Crane estate and the village around it. He had placed a commemorative statue of the three children of the Empress Iweko I within the center of the village, carved entirely from a piece of marble by a Kitsu sculptor, who evoked the fluid, changing nature of water. The priest warned that the earth kami had been offended by the new statue, but Etsuki rejected to destroy the statue. Amihiko told the harvest would be unlikely to improve until the earth kami were placated. [2]
Michiki, a student of Rae Sensei himself, was appointed as taisa within the first company of the Seventh Legion of the Shiba Army. He confronted Isawa Nairuko, a priestess who had discovered that the Moto family were cursed, drawing ill fortune to them and their descendants. His brother's wife was a Moto, and Michiki believed his niece had been robbed of her future. Michiki was ashamed when he realized that Nairuko was married also to a former Moto, Isawa Kyung-won, who appeared wearing the colors of the clan of his birth, leaving behind his wife and the Phoenix Clan, back into the Unicorn. [3]
Michiki attempted to defend his charge against a ninja attack [4] but failed. Shamed, he was granted seppuku in front of the dead corpse of the maiden he had sworn to defend. [5]
External Links
Edit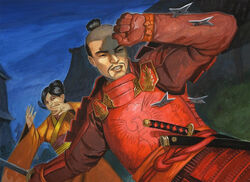 References
Ad blocker interference detected!
Wikia is a free-to-use site that makes money from advertising. We have a modified experience for viewers using ad blockers

Wikia is not accessible if you've made further modifications. Remove the custom ad blocker rule(s) and the page will load as expected.