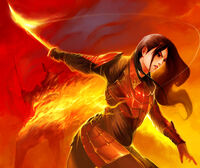 Shiba Kudome was a bushi, duelist, and yojimbo of the Phoenix Clan. She was a member of the Legion of Flame.
Colonies
Edit
In 1198 Kudome had recently arrived to the Colonies. She sparred against Akodo Michitsu in a dojo in the Military District of the Second City. [1]
P'an Ku's Madness
Edit
When P'an Ku's madness spread over the Second City, the riots reached even the Imperial District. The Master of Water Asako Chukage knew they could not oppose the maddened mob there, and alongside the Master of Void Isawa Kimi retreated to the Governor's estate. [2]
External Links
Edit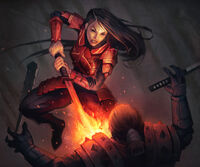 References
Ad blocker interference detected!
Wikia is a free-to-use site that makes money from advertising. We have a modified experience for viewers using ad blockers

Wikia is not accessible if you've made further modifications. Remove the custom ad blocker rule(s) and the page will load as expected.