Shiba Kai was a bushi of the Phoenix Clan who knew the unarmed fighting style [1] after he has trained by two uncles returned from their monasteries. He trained the Seven Fortunes style. [2]
Dragon-Phoenix War
Edit
Kai fought against Hoshi Wayan in the Dragon-Phoenix War. [3]
Early Retirement
Edit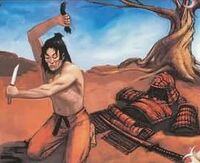 Forced by Scorpion manipulations [4] Kai decided to become a Monk in an early age, [5] joining the Order of Tengen, under the sensei of the sect, Chian. [6] Kai pondered with Asako Toshi his life as a monk. [7]
External Links
Edit
References
Ad blocker interference detected!
Wikia is a free-to-use site that makes money from advertising. We have a modified experience for viewers using ad blockers

Wikia is not accessible if you've made further modifications. Remove the custom ad blocker rule(s) and the page will load as expected.