Shiba Itami of House Nasu was the Nasu Daimyo, vassals of the Shiba.
Itami was appointed as Provincial Governor, and took stewardship of Shiro Shiba during Shiba Tsukimi was absent. [1]
Politics
Edit
Itami was a young and beautiful courtier who decided that the days of the withdrawn Nasu family were over. In the Imperial Court she approached the Scorpion and Crane to become the pre-eminent courtly family in the Phoenix Clan. Only Doji Nagori responded favorably to her efforts and that response was far more likely due to her physical appearance than genuine respect. [2] She was described as "pretty and well-schooled, but naive" by Nagori. [3] In the court she used to meet with courtiers of low status, as Kakita Gosha. [4]
View on Itami
Edit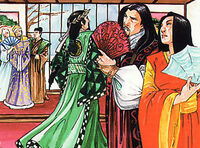 Itami was stationed in the minor court of Nikesake, to resolve minor issues between the Phoenix and the Crane ambassadors. [5] She was an unskilled courtier, and Hantei Naseru used her as a channel to spread the rumor of an allegiance between the Emerald Champion and himself. [3] [6]
External Links
Edit
References
Ad blocker interference detected!
Wikia is a free-to-use site that makes money from advertising. We have a modified experience for viewers using ad blockers

Wikia is not accessible if you've made further modifications. Remove the custom ad blocker rule(s) and the page will load as expected.