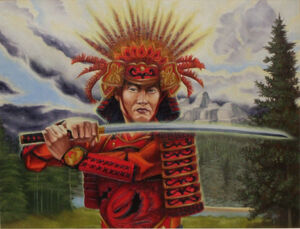 Shiba Ikku was a bushi, yojimbo, and duelist of the Phoenix Clan.
Training
Edit
Ikku trained alongside Shiba Sakishi at the Eternal Phoenix Dojo. [1]
Ikku was assigned to Isawa Mizuhiko. The fought in the War of Fire and Thunder and were part of the Shiba Army in the Battle of Broken Waves in 1167. [1]
Dark Oracle of Earth
Edit
In 1170 Ikku was with Mizuhiko during the quest for the Dark Oracles. When Mizuhiko's group discovered the Dark Oracle of Earth Yasuki Nokatsu was dwelling in the Sleeping Thunder Mountain, Ikku was sent to give word to Asako Juro and to ask for reinforcements. Mizuhiko managed to kill Nokatsu with Judgement, a Bloodsword his charge found in the Oracle's cave. [1]
External Links
Edit
References
Ad blocker interference detected!
Wikia is a free-to-use site that makes money from advertising. We have a modified experience for viewers using ad blockers

Wikia is not accessible if you've made further modifications. Remove the custom ad blocker rule(s) and the page will load as expected.